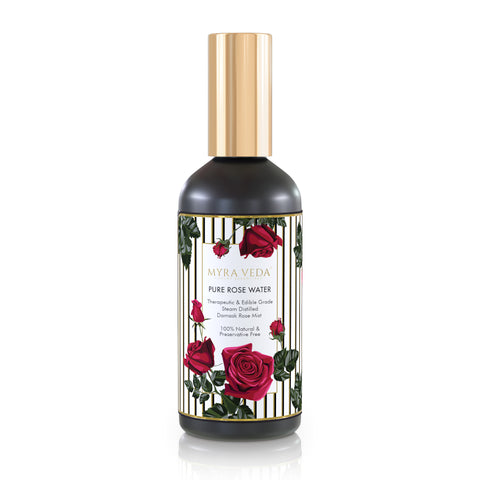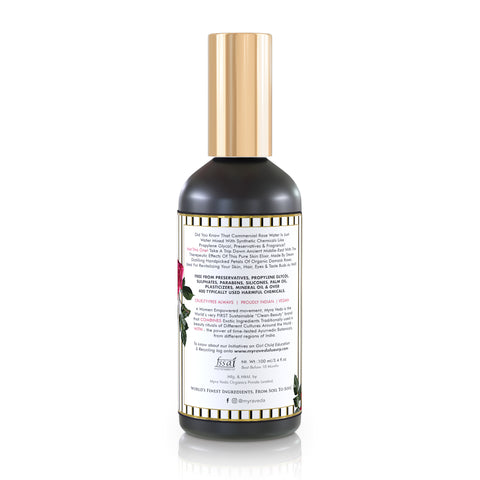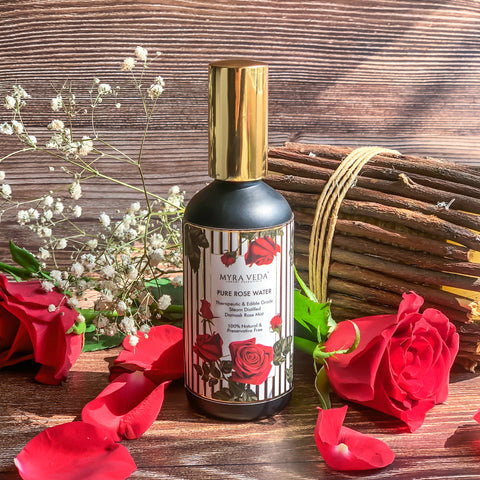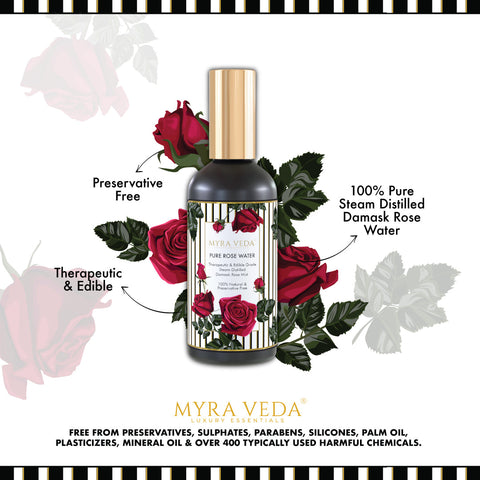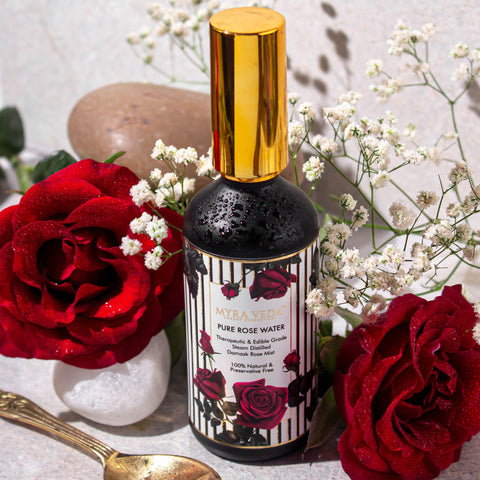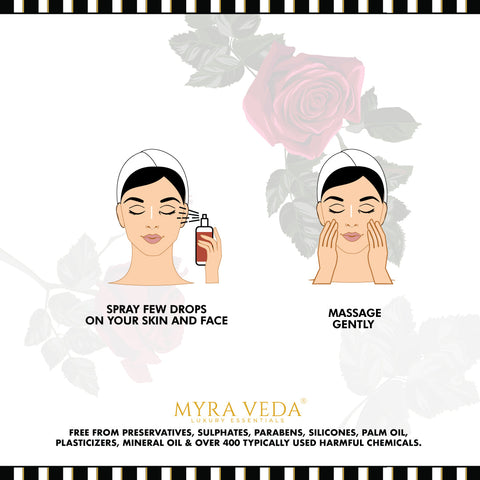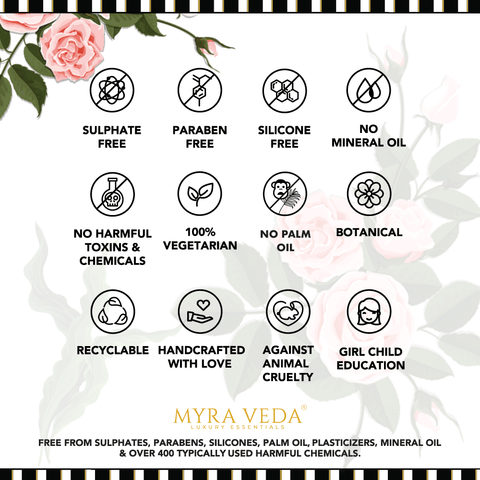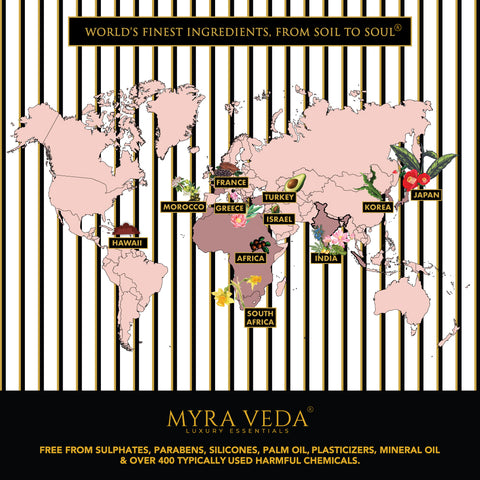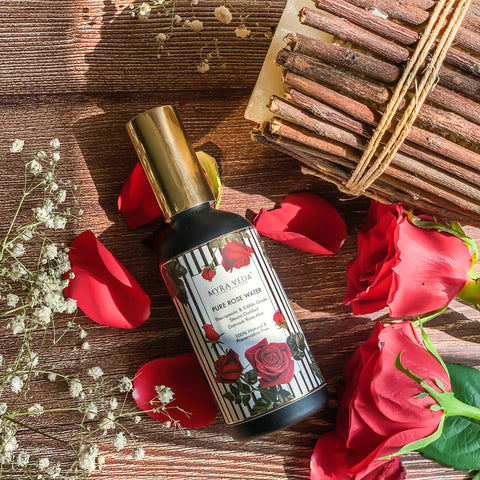 Face Care
Myra Veda Pure Rose Water -100ml
Our Pure Damask Rose Water has Antioxidant, Anti-Inflammatory, Antiseptic, Antibacterial & Antimicrobial properties of 1000 Damask Rose petals in a single 100ml bottle.
Use this Soil to Soul Ⓡ concept of Rose water to soothe skin, tighten pores, prevent fine lines & signs of aging, maintain skin pH balance, control excess oil, regenerate collagen production, soothe scalp irritation, as an after-shave toner, cleanse your eyes, freshen your breath & add flavor to food.
100% Natural & Preservative Free

Tightens pores

Soothes skin

Prevents signs of aging

Maintains skin pH balance - acts as a natural toner

Regenerates collagen production

Controls excess oil
How our Rose Water is made:
We make Rose Water by steam distilling thousands of kilograms of Organic Handpicked Damask Rose Petals. Damask Rose is seen as a symbol of happiness, beauty, and love. With our very own Damask Rose Water, we hope to give you skin that is hydrated, moisturized, and revitalized as if touched by a Goddess's hand herself.
Our Handpicked Damask Rose blooms have been cultivated in temperatures as low as 0°C and 5°C, for about 15 days to enhance the quality of the bloom so that they possess properties that will help cleanse pores, tone skin as well as strengthen cells and regenerate skin tissues. Come get lost in the ethereal natural fragrance of this skin elixir.
Make an Informed Choice:
Popularly available Rose water is just water mixed with cheap synthetic chemicals & artificial fragrance. Myra Veda, on the other hand, uses low heat single steam distillation of Rosa Damascena petals so that the essential oils remain intact for maximum aromatherapy benefits to you.
Unlike commercially and popularly available Rose Water that is just water mixed with synthetic chemicals like Propylene Glycol, Preservatives and Artificial Rose Fragrance, our Rose Water is made without any chemical additives or preservatives. Pure Rose Water contains a naturally occurring chemical compound that preserves itself against microbial activity, which is why it contains no added preservatives.
Directions: Spray directly on skin or scalp. Either let it dry on its own, or top it up with the next product for maximum skin hydration, while it is still wet. Safe for use in eyes & mouth. 
Rose Water pairs beautifully with our range of Organic Clays and Gels for your DIY beauty regimes.
What makes Myra Veda's Hydrosols different from the rest?
Hydrosols, also popularly known as Botanical/Floral Waters or Mists, are water based products made from the steam distillation of fresh flowers, leaves, fruits, roots and other plant materials. They're merely a by-product of the essential oil manufacturing process and can share many of the same therapeutic properties as essential oils. The difference is that hydrosols are mostly water. This means they're much less concentrated than essential oils.
When steam distillation is performed at a high temperature, the essential oil is separated from the hydrosol. To get the most yield of essential oils, double-triple distillation on extremely high temperatures is a common practice which leaves the hydrosols as mild aromatic waters without any benefits. Brands commonly sell these mere by-product hydrosols for profit even though they have no therapeutic value left. It is also a common industry practice to add synthetic fragrances and solubilizers in water and sell them as hydrosols.
However, Myra Veda's hydrosols are different because we use a special low heat technique to only distill the organic plant material one single time. At such low temperatures, the highly volatile essential oils don't separate from the hydrosols, thereby ensuring that all our hydrosols contain ALL the extremely beneficial therapeutic properties of 100% natural essential oils. 
Despite being potent, they're completely safe to use directly on your skin & scalp.
Our hydrosols are 100% Natural, Pure, Residue Free, Therapeutic & Edible Grade.