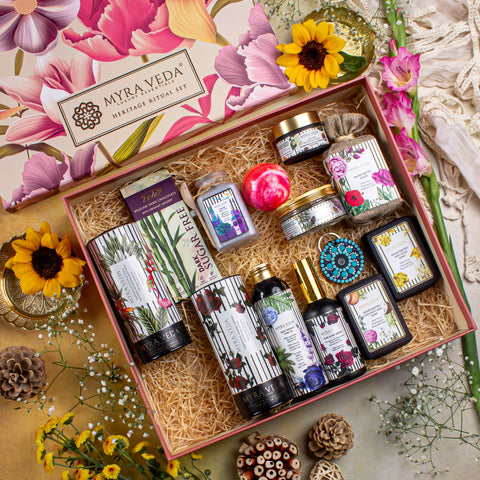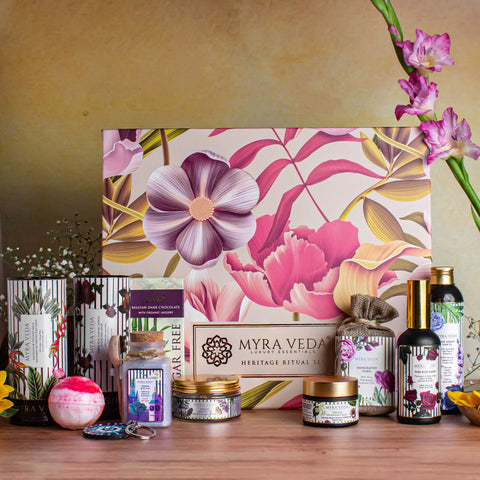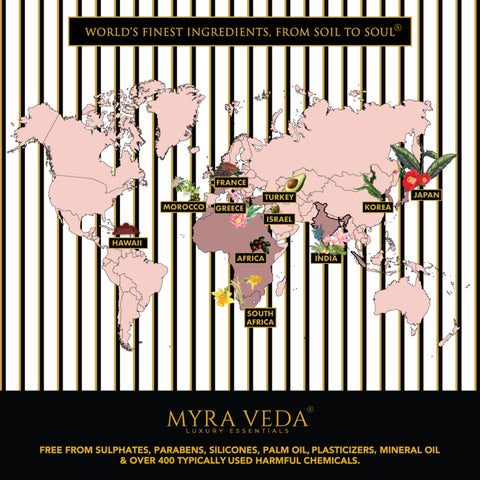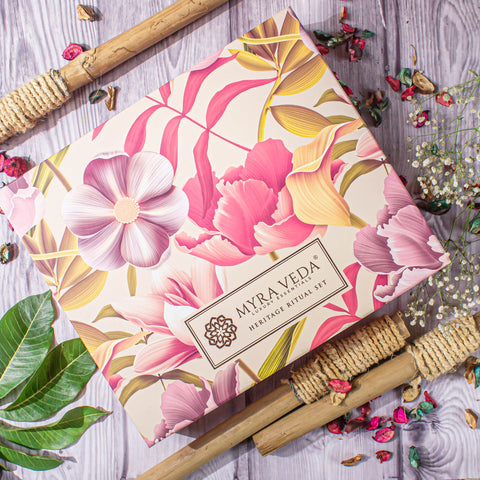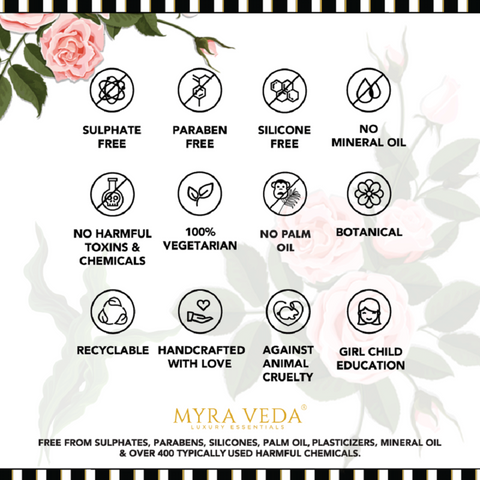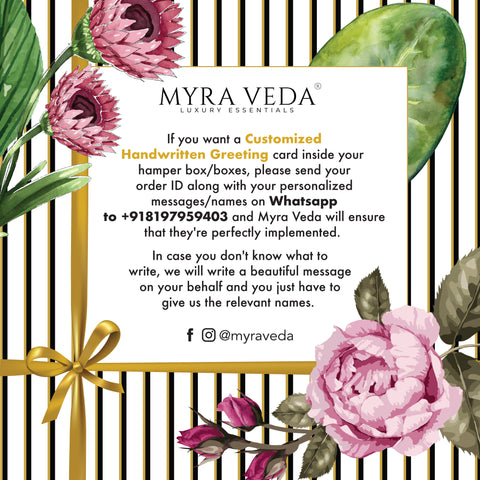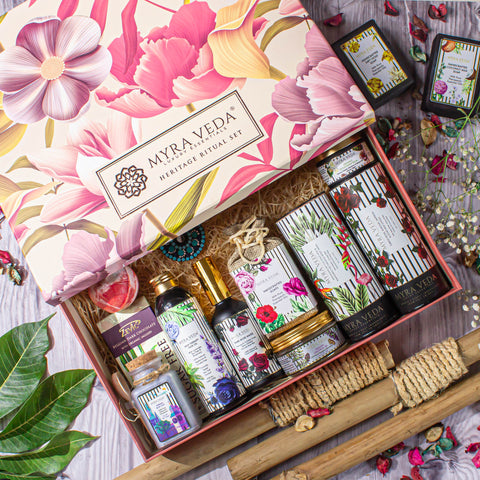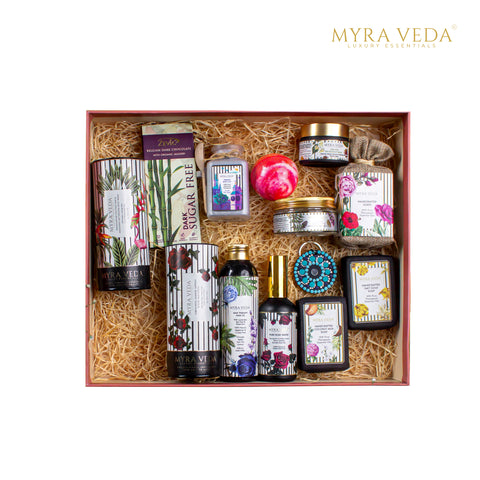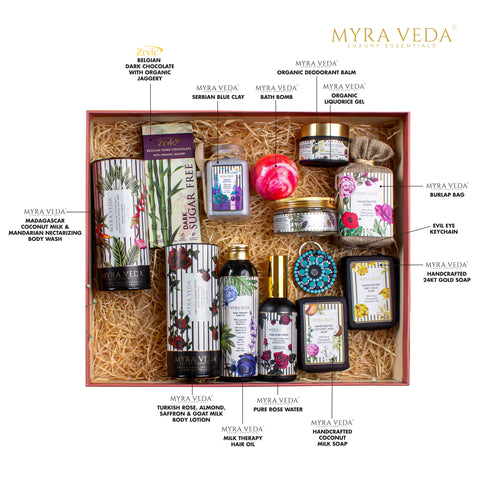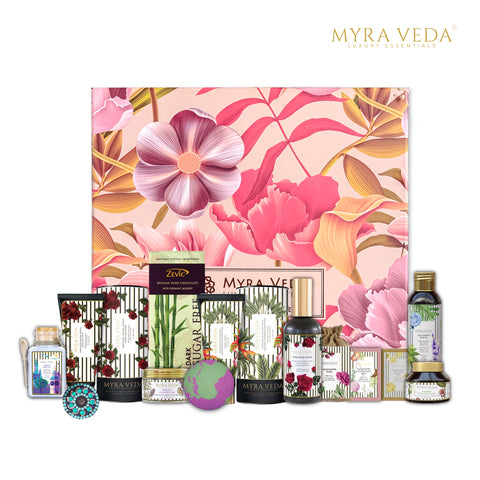 Myravedain
Myra Veda Extra-Large Beauty Care Gift Hamper-Pack of 12
Whether you're looking for THE PERFECT GIFT or just some self-indulgence, this hamper is for you.

This Beautiful Extra-Large Gift Hamper Box includes (1500g):


Turkish Rose, Almond, Saffron & Goat Milk Lotion (50g) - Long-lasting moisturizing lotion with Turkish Roses, Iranian Saffron, Goat Milk, and Sweet Almonds from Spain, that absorbs quickly into the skin, leaving it feeling soft, hydrated, and extremely supple.

Madagascar Coconut Milk & Mandarin Nectarizing Body Wash (50ml)- Take a dip in the tropical wonderland of Madagascar with the Madagascar Coconut Milk & Mandarin Nectarizing Body Wash that nourishes your skin deeply for a refreshing bathing experience.

Serbian Blue Clay (100g) - Extracted from the Serbian lakes, this rare, mineral-rich cosmetic clay nourishes your skin and restores its elasticity, leaving you with youthful, glowing skin.

Organic Liquorice Gel (120g) - Cool down your body, mind & soul with the potent hydrosol & pure pulp of organically grown Liquorice.

Pure Rose Water(100ml) - Take a trip down the Ancient Middle east with the Finest Rose water made from fresh Steam- Distilled petals of the highest quality Damask Roses. Indulge in the Therapeutic effects of this Pure Skin Elixir and watch it hydrate and revitalize your skin and control excess oil while maintaining your skin's PH balance.

Bath Bomb (55g)– Watch our vibrantly colored, invigoratingly scented bath bomb transform an ordinary bath into a lush, heavenly, and luxurious experience that leaves you feeling relaxed and rejuvenated for days at a stretch.

Handcrafted Coconut Milk Soap (100g) - This luxurious Hand-crafted Coconut milk soap bar is made with all things natural. With a luxurious blend of saponified oils of coconut, Olive, and Japanese Camellia and with the added moisture from Raw Ghanaian Shea Butter, Belgian Cocoa Butter, Indian Mango butter, and Coconut milk, this handcrafted soap bar nourishes and replenishes your skin, while giving you smooth, radiant and moisturized skin.

Handcrafted 24Kt Gold Soap (100g) - Take solace in our 24Kt Edible Gold Leaves infused magically formulated soap bar. Nourish your skin with the oil infusions of Coconut, Olive, Japanese Camellia, and Moroccan Argan together with aloe vera and vitamin E; that penetrate to the deepest layers of your skin, bestowing supple, moisturized, and Midas's touch-like radiance.

Milk Therapy Hair Oil (200ml) – Surrender to the age-old secret of lush, gorgeous hair with our clinically proven Bhringaraj-infused hair oil. Rely on the magic of ayurvedic botanicals like Karnasphota, Amla, Anjana, Sesame & Liquorice, and the aromatic blend of English Lavender, Australian Tea tree & Rosemary Essential oils, and a dash of extreme nourishment with Coconut, Cow, Goat & Buffalo Milk.

Organic Deo Balm (50g) - Prevent unpleasant body odor with our ambrosial Deo-Balm and watch as its soothing and cooling properties keep your sensitive armpits clear, calm, and smooth whilst resonating with your skin's natural flora & radiating a pleasant aroma throughout the day. 11. Sugar-free, Stevia-sweetened Organic Jaggery Couverture Belgian Dark Chocolate (40g) for an exquisite indulgence.

This hamper also includes a complimentary Evil Eye Key Chain.
Material: Cream + Gel + Solid
Size: 10cmx40cmx40cm

The Bath Bomb that you will receive might vary in size and color as that seen on the image, depending on the availability. At Myra Veda, Bath Bombs are freshly handcrafted as and when an order is placed!