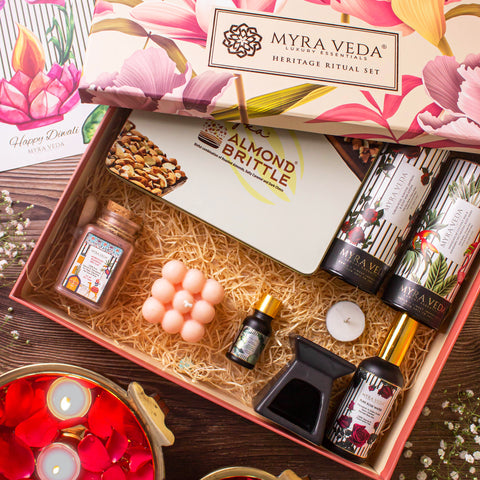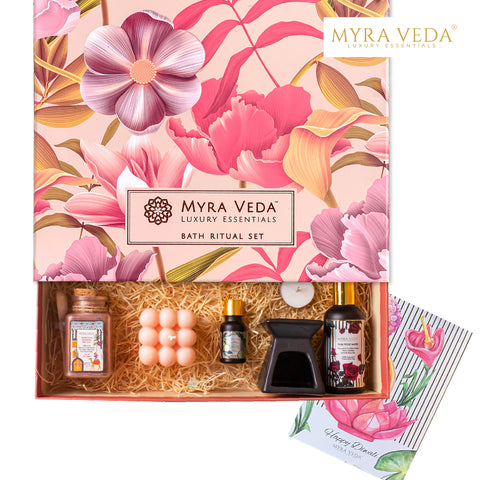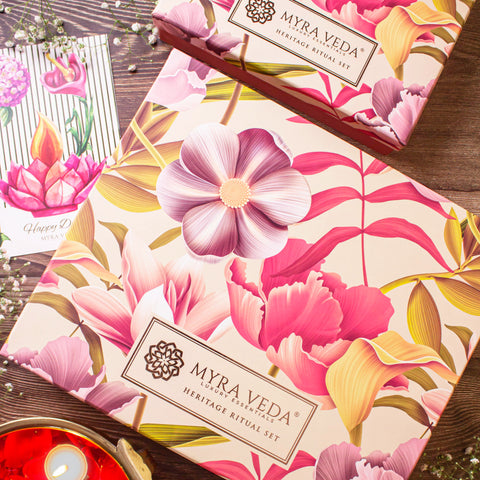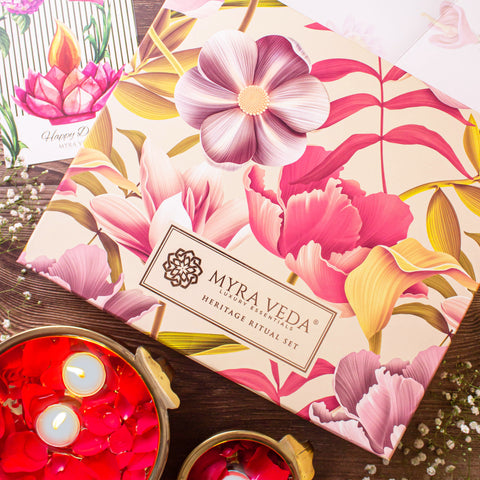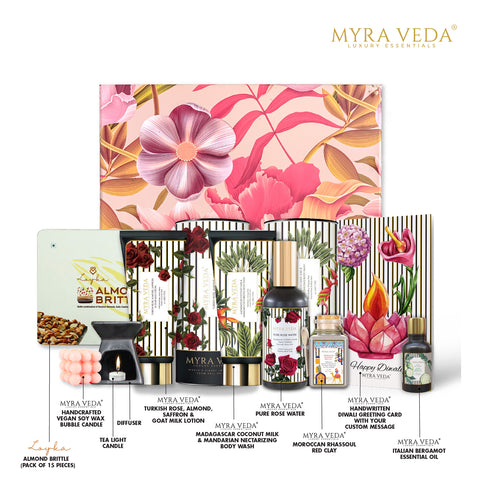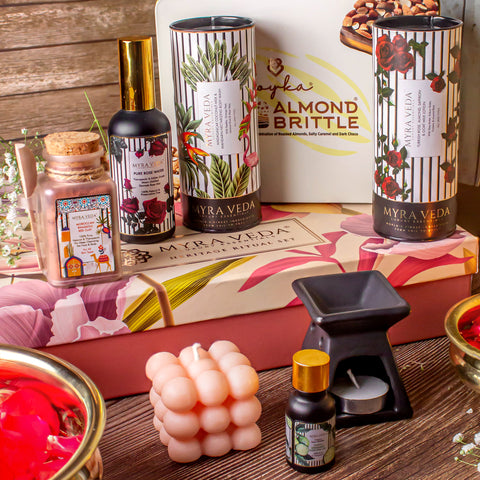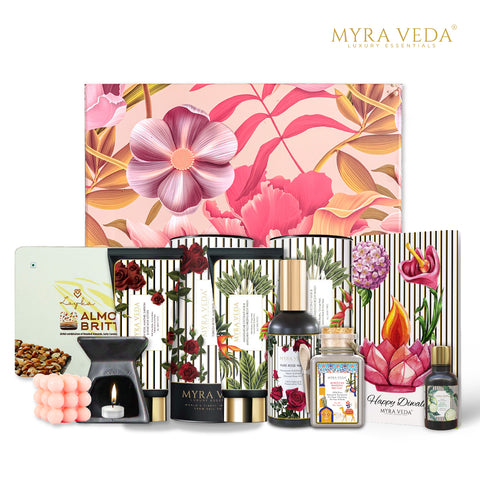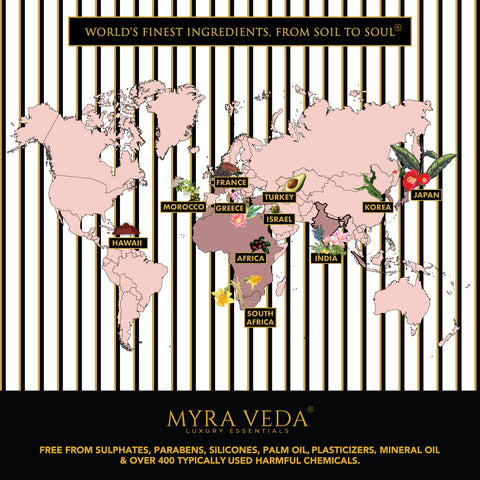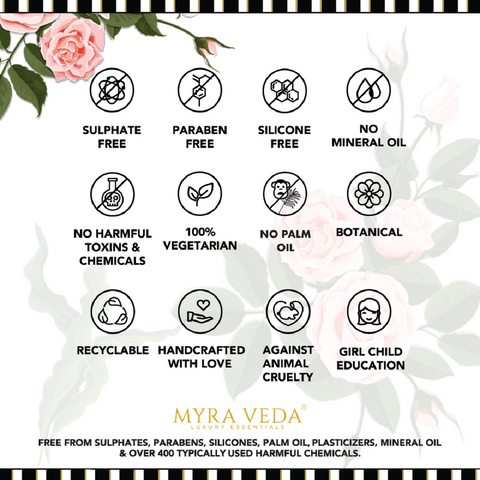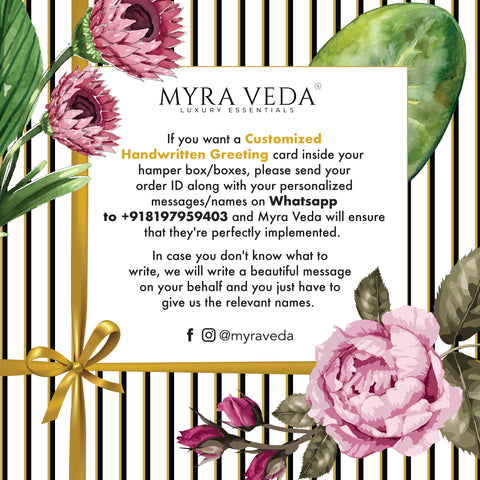 Myravedain
Myra Veda's Limited-Edition EXTRA-LARGE DIWALI 'LUXURY ESCAPE' Hamper of Luminicense - Ensemble of 7
The Diwali, bring the goodness and glow of #Clean & #Green Beauty Products for your loved ones; topping it up with a hint of cheerful chocolate sweetness. Spread cracker-free brightness with Myra Veda's thoughtfully curated, Exclusive Limited Edition, Luxury Escape Organic Gift Hampers.

Whether you're looking for THE PERFECT GIFT or just some self-indulgence; an exuberant splurge or a budget-friendly token, this range of curated hampers is for you.

Let our hamper take you into the world of beautiful aromas reminiscent of different cultures and fragrance palettes of the World.

This Beautiful Extra-Large Gift Hamper Box includes (1500g):

1. Diwali Special: Italian Bergamot Essential Oil (15ml) + Diffuser (100g) + Tea Light Candle together with
Complimentary Handwritten Diwali Greeting Card
2. Loyka's Original Almond Brittle Chocolates with Reusable Royal Tin Box (Pack fo 15 Pieces) (255g)- A sinful combination of Rosted Almonds, Salty Caramel & Dark Chocolate.
3. Turkish Rose, Almond, Saffron & Goat Milk Lotion (50ml)- Long lasting moisturizing lotion with Turkish Roses, Iranian Saffron, Goat Milk and Sweet Almonds from Spain, that absorbs quickly into the skin, leaving it feeling soft, hydrated and extremely supple.
4. Madagascar Coconut Milk & Mandarin Nectarizing Body Wash (50ml) - Take a dip in the tropical wonderland of Madagascar with the Madagascar Coconut Milk & Mandarin Nectarizing Body Wash that nourishes your skin deeply for a refreshing bathing experience.
5. Pure Rose Water (100ml)- Take a trip down Ancient Middle east with the Finest Rose water made from fresh Steam- Distilled petals of the highest quality Damask Roses. Indulge in the Therapeutic effects of this Pure Skin Elixir and watch it hydrate and revitalize your skin and control excess oil while maintaining your skin's PH balance.
6. Moroccan Rhassoul Red Clay (100g)- Mined exclusively from valleys of the Atlas Mountains of Morocco, our "Cosmetic Gold" is a pure elixir for your skin. Watch as the magnetic energy of this clay detoxifies your skin whilst protecting it from environmental damage!

7. Handcrafted Vegan Soy Wax Bubble Candle-Free from harmful additives and toxins(100g)

The color of the diffuser might differ from that shown in the image depending on the availability of the product. There are various Diffuser colors available with Myra Veda.
Material: Cream + Gel + Solid + Chocolate

Size: 10cm x 10cm x 10cm