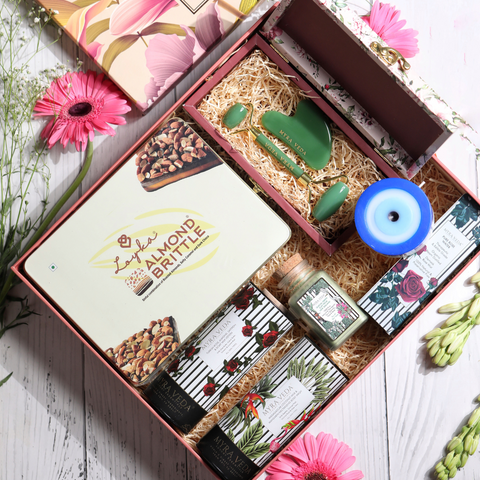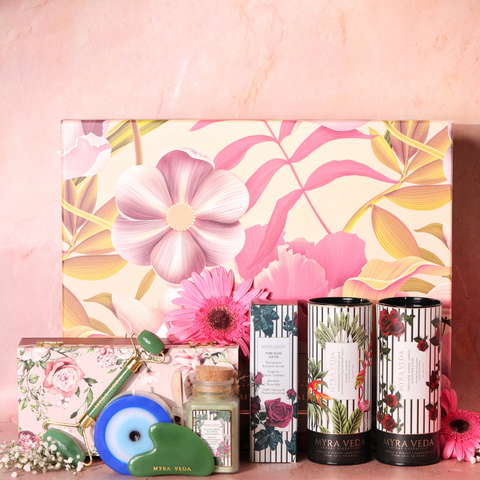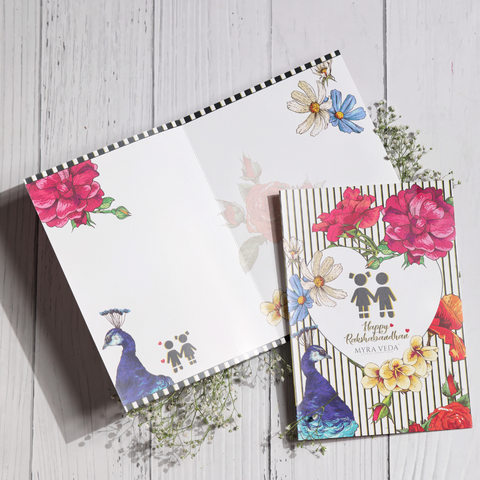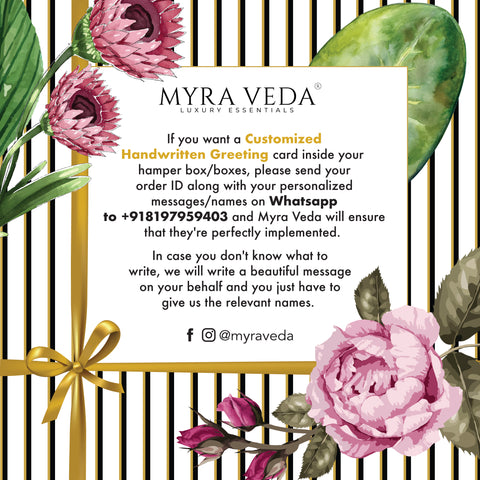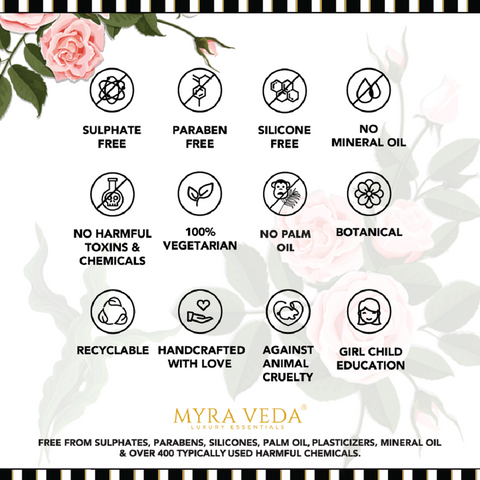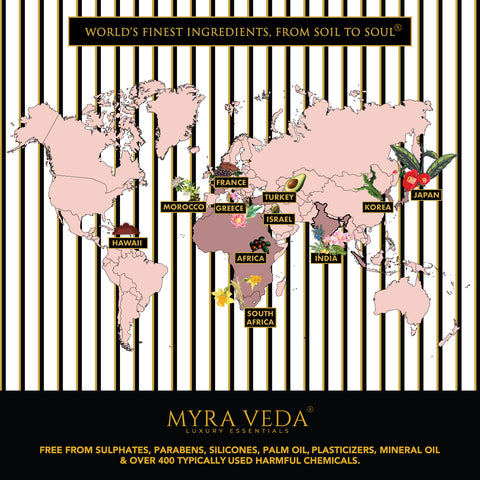 Myra Veda Luxury Essentials
TOKEN OF LOVE #MYRAkhi LARGE GIFT HAMPER for 'SISTER'- PACK OF 8
A beautiful way to shower some love on your "SISTER" and make her day extra special with our perfectly curated Raksha Bandhan LARGE Gift Hamper containing:
A personalized CARD including a hand written message.
Loyka's Original Almond Brittle Chocolates (Pack of 15 Pieces)- A sinful combination of Roasted Almonds, Salty Caramel & Dark Chocolate
Turkish Rose, Almond, Saffron & Goat Milk Lotion (50ml)- Long lasting moisturizing lotion with Turkish Roses, Iranian Saffron, Goat Milk and Sweet Almonds from Spain, that absorbs quickly into the skin, leaving it feeling soft, hydrated and extremely supple.
Madagascar Coconut Milk & Mandarin Nectarizing Body Wash (50ml) - Take a dip in the tropical wonderland of Madagascar with the Madagascar Coconut Milk & Mandarin Nectarizing Body Wash that nourishes your skin deeply for a refreshing bathing experience
Kit Box of Green Jade Gua Sha and Face Roller, made of the natural stone "Jade" – known as a symbol of beauty and grace. These facial tools depuff, soothe and lift the skin giving you a radiant glow. Facial massages using these tools relax the nervous system, remove toxins and boost blood circulation.
Evil Eye Candle
Pure Rose Water (100ml)- Indulge in the Therapeutic effects of the finest Rose Water made from fresh Steam- Distilled petals of the highest quality Damask Roses, and watch it hydrate and revitalize your skin and control excess oil whilst maintaining your skin's PH balance.
Any ONE Organic Myra Veda Clay from our Clays of Earth collection (100g) Clays of Earth Range includes: French Pink Clay, Amazonian Clay from Egypt, Arabian Sea Clay, Serbian Blue Clay, Brazilian Purple Clay, Brazilian Yellow Clay, French Green Clay, Moroccan Rhassoul Red Clay, Glacial Green Clay from New Zealand, Raw Wild White Turmeric.